6 Reasons Californians Are Making DALLAS Home
Approximately half of all transits into the Dallas Fort Worth Metroplex are relocating from California, and for these reasons, it may not surprise you! To be added to our California list, please email us for a FREE Relo packet to evaluate your relocation to Dallas. We have orgainzed savings specifically for your relocation.
Six reasons why everyone is moving to Dallas:
Reason #1.
Great Economy, Ranked 6th best GDP in the U.S. with an all time high (2014)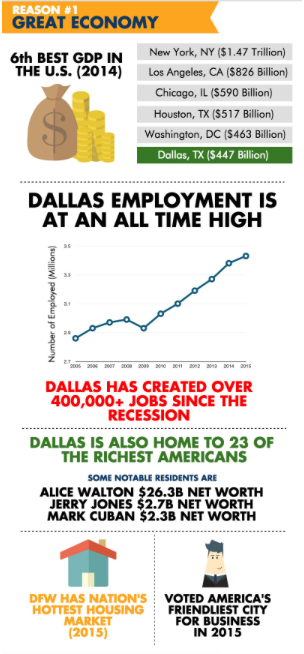 Reason #2.
Second best City for Recent Grads (2014). Major companies such as AT&T, American Airlines, Toyota are also seeing the benefits and increased quality of life for their employees in Dallas.
Reason #3.
Dallas is home to two of the 10 public High Schools in the U.S. Also home to SMU and TCU, which are top ten Universities in Texas.
Reason #4
Ranked 3rd in the Nation for Job Growth. (2015) The average salary being $67,500 and average home price $178,000. Contact us for more information on how to get the most of your paycheck and home prices. brittanystewart.com (469)712-4888
Reason #5
Dallas has more Restaurants per capita that any other metropolitan area in the U.S. Food, food and more food! There is always a family activity or sporting event.
Reason #6
Dallas was ranked the 4th best city to relocate to in America. (2014) Great weather year round with an average high of 76* and lows of 55*, you could see why.
For a FREE relocation package and Realtor organized benefits such as reduced fees and relocation reimbursement, contact me immediately
Brittany Stewart, DFW relocation expert
(469)712-4888
brittanystewart.com
brittanystewarthicks@gmail.com